Item 169254 – Panama: The First Issues as a State of Colombia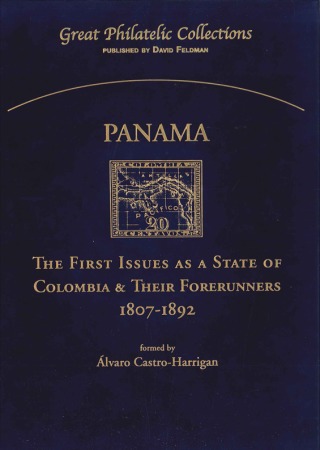 Publications » Great Philatelic Collections
Panama: The First Issues as a State of Colombia & Their Forerunners 1807-1892 formed by Alvaro Castro-Harrigan
This exhibit is a wonderful philatelic journey which begins in Panama but travels to many different places. It starts by illustrating the Spanish colonial period with a powerful display of rarely seen postmarks. Then it studies the consular agencies that were created in Panama in the last decades of the nineteenth century, in a time when the Isthmus was the was the gateway of communications to and from Latin America for countries like Great Britain, France and USA.
The exhibit is a study that clarifies and makes sense of a sometimes incomprehensible postal system, when the First Issue of the Sovereign State of Panama came into light in 1878. At the time, the country was part of Colombia. The exhibit's final chapter offers a great example of philatelic research on the nuances of the 1887-88 "Maps Issue".
As a whole, this philatelic journey is as comprehensive and fact ridden as it gets.
Price
100.00 EUR
Quantity available
18

Please log in once in order to place bids or buy lots.