Item 169259 – Classic India 1669-1857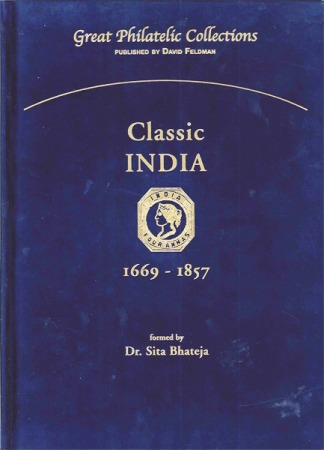 Publications » Great Philatelic Collections
Classic India 1669-1857 formed by Dr. Sita Bhateja
"Provenance" has become an ever more important aspect of philatelic interest (and value). Collectors appreciate items which have been in the hands of the greatest collectors of their day, from Ferrary and Hind and Lichtenstein to Burrus and Caspary. Indian philately was marked by the supreme collection assembled by Desai, sold in 1949, as well as those of Rose-Hutchison, "Koh-i-Nor," Dale-Lichtenstein, Burrus and several others.
It is important to note that Dr. Sita Bhateja's collection contains many items from the greatest India collections of the past, only a few of which are pointed out on her pages (and these being mostly ex Desai). In addition, many of her very best 4 annas items were used by D.N. Jatia to illustrate his 2000 handbook, "India's Bi-Coloured Four-Annas 1854."
Dr. Bhateja has accomplished the near-impossible task of creating a well-balanced exhibit populated by important stamps, multiples and covers throughout, many of them the most important for the particular value, printing or die presented.
Price
100.00 EUR
Quantity available
0
Not in stock