Item 169320 – Egypt Volume III – Post Offices Abroad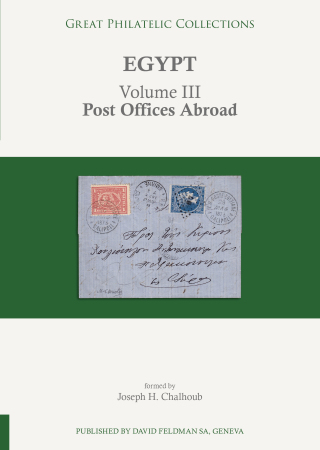 Publications » Great Philatelic Collections
This is the Volume III of a series of books dedicated to the Egypt Stamp Collection formed by Joseph H. Chalhoub.
This volume of 156 pages is presenting The Egyptian Post Offices Abroad
Egypt developed a major presence, the Khedivial Mail Line, in the Eastern Mediterranean and the Red Sea in the 19th century. A postal service was established in the consulates at the ports in the Ottoman Empire served by it. A few years later, southward colonial expansion as far as Somaliland and the borders of Uganda led to the opening of a considerable number of Egyptian Post Offices, mostly in the Sudan.
This collection is presented in two groups. The first group is called Consular Offices. This is where Egyptian post offices existed at the Egyptian Consulates in ports of the Ottoman Empire, in which the civil administration was Turkish. The second group is called Territorial Offices, they were nominally Turkish, without postal services, until the Ottoman Sultan formally transferred the civil administration to Egypt.
The Egyptian offices are the rarest of all foreign offices in the Mediterranean, approached only by those of Russia.
Price
75.00 EUR
Quantity available
2

Please log in once in order to place bids or buy lots.