Item 173253 – Autumn Auction Series – Persia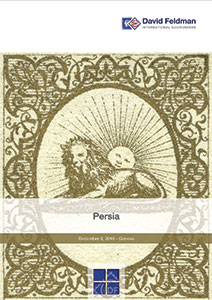 Auction catalogues » 2018
Another important sale of Persian philately and postal history.
The sale includes many very rare, and sometimes unique, shade and color varieties of the primitive Lion issues, as listed in the new Persiphila Iran Philatelic Reference, Volume 1 – Lions of Iran, 6th Edition, by Mehrdad Sadri. It is also noted that many of the Lion issues have either Persiphila certificates and or signatures of Mehrdad Sadri. Additionally, an attractive array of the Portrait issue postal history is offered, plus much, much more, including some wonderful collections throughout.
Hence, this sale offers to the market a wealth of material and an excellent basis for new collectors of this exciting field to expand their horizons and add to their collections.
Price
15.00 EUR
Quantity available
12

Please log in once in order to place bids or buy lots.