Item 182073 – Ireland – Postal History 1591-1865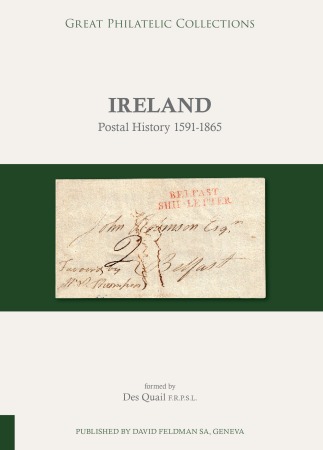 Publications » Great Philatelic Collections
Great Philatelic Collections book dedicated to the Postal History of Ireland from 1591 to 1865, a collection formed by Des Quail, F.R.P.S.L.
The Postal History of Ireland is closely related to that of Great Britain in that the first postal rates were established in 1657 by the same Act of Parliament as those set for the English system. Although under the jurisdiction of the British Post Office, the Irish Postal system was administered from Dublin up until 1784. From 1784 to 1831 the Irish Post Office was independent of the British Post Office. Thereafter the two systems were closely aligned.
This exhibit traces the development of the Irish Postal System using rates, handstamps, routes, and stamps from the merchant post of 1591, the Early Period established in 1657, the Independent Period established in 1784, the Unified Period established by the 1827 Act of Parliament, the 1839 Postal Reform Period, the 1840 use of Adhesive stamps, Transatlantic mail to, from and via Ireland and Local Posts.
At London 2015 the exhibit was awarded a Large Gold medal with 95 points and it was rewarded with a World Large Gold medal and 96 points at New York 2016; a first for philately in Ireland.
Price
65.00 EUR
Quantity available
1

Please log in once in order to place bids or buy lots.