Item 182119 – Autumn Auction Series – GB & BRITISH EMPIRE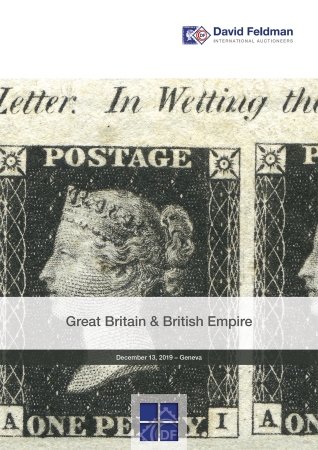 Auction catalogues » 2019
The auction of the lots presented in this catalogue will be held in Geneva on Friday 13 December 2019.
This GB & British Empire catalogue features over 1'200 lots, with a particularly strong and attractive offering of Great Britain from the 1839 Treasury Competition essays through to QEII modern errors.
Highlights from the GB include the range of Penny Black material, especially the front-cover showpiece; the plate 6 mint top marginal strip of four. There's a variety of scarce and rare cancels in the Line Engraved section including the famous «Hot Cross Bun» cancel on cover. Throughout the Queen Victoria period there are marginal multiples, imprimaturs, die proofs, specimens, etc., which finishes with a section of postal history including unusual destinations. The standout section from the King George V section is the Seahorses including a corner marginal block of the £1 green as well as a variety of shades and proofs. The QEII section is the largest we have offered in a while, and features plenty of modern errors as well as imprimaturs.
From the British Empire section, it was a delight to describe the 60 plus lots of Ceylon from an old time collection which was strong in the Perkins Bacon issues, including one of only three known multiples of the 4d Rose, as well as an attractive range of mint multiples and postal history. There's also a lovely selection of the very popular KUT high values which always sell well. And as usual we have many fresh and valuable collections offered intact, including a stunning collection of Rhodesia.
Price
15.00 EUR
Quantity available
3

Please log in once in order to place bids or buy lots.