Item 191597 – Egypt – Chalhoub Collection – Volume VII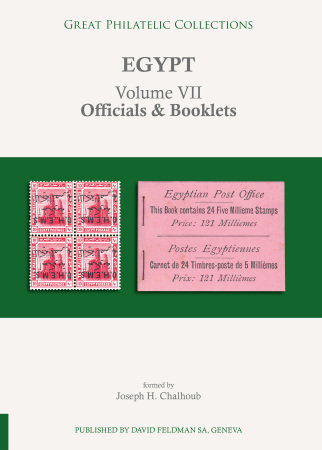 Publications » Great Philatelic Collections
This is the Volume VII of a series of books dedicated to the Egypt Stamp Collection formed by Joseph H. Chalhoub.
This volume of 396 pages is presenting Officials and booklets in Egypt.
This volume covers two areas of Egypt philately: the Official Stamps, Coils and Stamp Booklets.
OFFICIAL STAMPS
Egypt had no Official stamps until 1893 when a single stamp without expressed face value (the miri stamp) was issued for internal use; one stamp sufficed for any item regardless of weight or registration. The collection starts with a couple of covers with rare intaglio negative seals prior to the introduction of the miri stamp.
Eight hand-painted essays for the proposed miri stamp were produced, a unique group. An exceptional cover with miri stamp that went through three oasis is presented.
In 1907 a set of stamps with denominations was introduced for use on both external and internal Official mail. A unique group of Specimens for the UPU archives of Madagascar are shown. Also Specimens for the UPU archives of Goa are seen. Several panes of this set are presented. Only two years later the miri stamp was reintroduced for use on internal mail, whereas the denominated stamps continued to be required for foreign mail. The mail of government Ministers and of the Court of Mixed Appeals was exempted from payment of postage, as was the mail of the British military forces. An exceptionally rare official cover with a bisect is included here. Several covers with different denominations are seen. A unique Parcel card with four of the 5 piastres value official stamps is presented.
In 1918 arrangements were again changed; steel handstamps, of elliptical format were issued for use on internal Official mail, and the miri stamp was withdrawn as the handstamps were distributed.
In 1913 provisional stamps were issued brought on by shortages in the overprinted stamps sent from England. A rare cover with O.H.H.S. between quotation marks is included. Also a unique cover with an inverted overprint "O.H.H.S." can be seen.
Officials of 1914 to 1922 are shown next with covers. Errors of the overprints (double, inverted) are shown; some are exceptionally rare. Two proof sheets of the 1914 overprint are seen, one for a pane of 60 and the other for a double pane of 60. A unique group of 1922 issue in sheets for the 1 m., 2 m. and 5 m. value is presented. The largest block of the 3 m. is also presented.
For the Proclamation of Kingdom, a set was issued in 1922 with O.H.E.M.S. bilingual overprint with a detailed presentation of the many errors, varieties, and settings. Some of the errors are rare or unique. Unique Specimens of the UPU for Madagascar, Goa and Mauritania are presented. Several covers are included.
COIL STAMPS AND STAMP BOOKLETS
Coil stamps were produced in 1910 by De La Rue and Company for the use in an automatic machine for the sale of 5 m. postage stamps. Rolls were produced by the pasting-up of horizontal strips of ten stamps which had been guillotined from stacked panes of ordinary stamps, with the result that the upper and lower edges of each stamp showed straight-cut perforation tips. In 2006, a small number of mint coil strips was discovered in Wales. This collection presents a strip of seven stamps and shows a rare cover with the usage of a coil stamp.
Price
110.00 EUR
Quantity available
1

Please log in once in order to place bids or buy lots.